This material is of interest to anyone wishing to find out more about the Fellowship and the method of contemplative prayer used.
All resources can be obtained by contacting the Admininstrator.
To see the full list of material published by the Fellowship, use the link to download the Resources for Contemplation leaflet on this page. This leaflet also gives the cost of material for which there is a charge.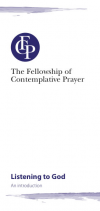 Listening to God - an introduction
This leaflet is to help those who want to know more about the ideas be... [more]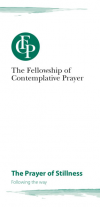 The Prayer of Stillness
Following on from the introductory leaflet 'Listening to God', this co... [more]

Sayings for Special Times
A leaflet containing a wide selection of biblical sayings suitable for... [more]
Sayings for Stillness
A leaflet containing Dominical Sayings suitable for contemplative pray... [more]
Enquirer's Pack
This pack can be mailed to you on application to the Administrator. It... [more]

/downloads/FCPResourcesLeaflet.pdf
Resources for Contemplation
A complet e and comprehensive list of all the Fellowship publications ... [more]